FREE Shipping on Invoices over $2,800*
Pricing and Shipping Information
We ship anything from the smallest packages to multiple truckloads, using FedEx Ground, Common Carriers such as US Freightways or Old Dominion, or independently contracted trucks. Note: Common Carriers such as US Freightways and Old Dominion do not deliver on Thanksgiving or the Friday following.
Tired of Hidden Shipping Fees?
Pursell Manufacturing includes shipping and handling in our prices for orders over $2800 so there are no surprises when you get your bill or statement. Many companies advertise what appears to be a low price, but hide additional shipping and handling charges for you to discover later. We make sure to disclose any additional shipping costs or fees for special services such as lift gate or residential delivery, so you can TRULY compare and save. So before you buy…
Know Your Delivered Price!!
We anticipate your needs and overstock over 200 different Christmas Tree Lot Supplies to make sure we have them when you need them and can get them to you promptly. Our warehousing and distribution system is unequalled in the industry. The more you combine into one order, the more you save – so the bigger your order, the lower your prices will be. We discount our prices as each order (total combined invoice*) reaches the $5,500, $11,000, or $16,500 break points. Each shipment will be treated as an individual order. You will find pricing tables similar to the one below in the pages of this catalog including a Wholesale Price, a discounted price for orders above $5,500, and an even bigger discounted price for orders above $11,000 or $16,500. This pricing system is illustrated below. If your volume is significantly beyond these figures, please call for custom truckload pricing.
Note: Some listed prices are subject to change due to sudden market fluctuations. We try to maintain inventories in order to prevent price changes, but we will inform you of changes in product prices if necessary as you order.
* Free Shipping Exceptions
1. Machinery items do not contribute toward price breaks or free shipping (priced from our location). However, if the rest of your invoice without machinery totals over $2,800 the machinery will be shipped free along with it. Machinery items include: Drill machines, Sky Guy Blowers, Flock machinery (turn tables, tree movers, flock machines), poly tubing racks, tree shakers, tree trucks, and wreath clamp machines/tables.
2. Customers in Hawaii, Alaska, Florida and parts of New England will incur a small fuel surcharge, but this will only be the difference between the nearest free shipping point and your location. Please call for details. States affected: NY, MA, CT, RI, NH, VT, ME, FL, AK, HI. See map on back cover for an illustration.
3. Special handling and fees, such as liftgates, residential delivery and Saturday delivery not included.
Special Handling Services Upon Request:
Lift Gate Service- $35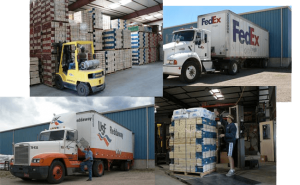 For palletized freight delivery only, not small packages or full independent trucks. Costs depend on carrier and final destination.
Your order will be carefully and promptly processed, pulled, hand stacked and prepared for shipping as necessary by our staff. Many orders are shipped the same day they are received, but order early to assure yourself of the best service and even specify the day you want your shipment to arrive.
Frequently Asked Freight Questions:
Q: How much will shipping cost?
A: Remember, orders over $2,800 ship FREE (see opposite page for exceptions).
If your order is less than $2,800 (or distributor priced from
our facility), freight cost depends on what you order, what it weighs, and
how it will be shipped. We need to know what merchandise is being
shipped so we can determine the best method, and what that will cost.
Q: Why are machinery and equipment items not included in free freight?
A: There just isn't any margin on equipment, and in order for our pricing
to remain competitive, the prices we publish don't include free freight.
However, if you order over $2,800 in qualifying products, the equipment
will ride along with it for free.
Q: When do I need a lift gate, and why is there a fee?
A: A lift gate is a special feature on a delivery truck that can help mechanically
load or unload merchandise without a ramp, dock or forklift.
It is basically an hydraulic lifting platform attached to the back of the
truck. Some small orders can be easily unloaded by hand, but if the
merchandise is large or multiple pallets and you do not have unloading
equipment, a lift gate will allow your order to be removed from the truck
quickly and easily. This costs a little more since the trucking company
will have to make special arrangements to use a truck equipped with a
lift gate to deliver your order, but it is often far less complicated and expensive
than renting a forklift or hiring extra help to unload. Note that
liftgates, residential and Saturday delivery are an additional charge.
Q: How do I know if my order will be shipped as freight on a pallet or as a small package?
A: Our order processors will determine this when you place your
order. The answer is determined by the weight and nature of the
products you need. Generally, if your shipment is over about 250 lbs,
it will be cheaper and easier to freight it to you. Some products
(bulky, overweight, etc.) must be palletized as they cannot be handled
as a small package.
Q: Do you ship to Canada, Mexico, or overseas?
A: Yes, absolutely. Please call us for more details as each destination
is handled differently.
Q: When will my merchandise arrive?
A: Many of our orders are taken early enough that we can schedule
the merchandise to arrive to the desired location on the day you specify.
We recommend ordering early and specify delivery date to take advantage of this option.
We can typically ship to the western 2/3rds of the country in 1-3 days,
and 3-5 days to locations east of the Mississippi River. Expedited and
overnight shipping may also be available in emergencies, please call.