Quality Products and Exceptional Service Since 1968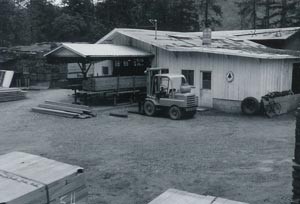 2021 is our 54th year at Pursell Manufacturing, which was founded in 1968 by Bill and Richard Pursell (father and son) near Grants Pass, Oregon. With a commitment to customer service, they soon brought a quality brand name and mass production to wooden Christmas tree stands, helping to revolutionize the industry and make wood stands the most popular method of standing trees in the American West. With ties to the lumber industry, Pursell Mfg. also became one of the Northwest's leading suppliers of wooden door and window parts. During the 80's two other production facilities were added in Idaho and Arkansas as sales expanded eastward and into the South.
Eventually, the line of Christmas products also expanded as customers asked for quality products from a friendly and reliable source. Nail-on water bowls complimented the wood stands, and bottling machinery was developed to meet the demand for liquid preservative and flame retardants. Richard's two sons, Alan and Paul also began making their mark on the company. In 1999 the Oregon facility (largely used for non-Christmas production) was sold and the company consolidated to a central location in Colorado and fully dedicated itself to Christmas supplies, adding a full line of products including Pinnacle flock, Golden Spike Rebar Stands, Pursell's Preservative, Tru-Cut Wood Stands, Snow-Force Flock Machines and equipment, poly tubing, netting, plastic stands, log reindeer and snowmen, wreath supplies, etc. This made Pursell Manufacturing the largest manufacture of Christmas Tree Supplies in the world on top of their already outstanding service and allows direct control over not only the reliability of the products but also the assurance of an adequate supply and delivery. Now customers can rely on a single dependable source that actually manufactures and/or overstocks many of their most critically needed products.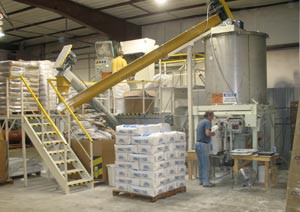 Today, with Pursell Manufacturing's expanded facility and freight partners USF Reddaway, Old Dominion, and Fed-Ex, we can offer the best available freight service at the lowest prices. Our distribution system is so efficient and reliable that several other companies have asked us to handle their order processing and freight as well. Not only do we continue to ACTUALLY MANUFACTURE many of the Christmas products that we carry, we offer the most comprehensive and responsive delivery system available in the industry, from small packages to single pallets, to multiple truckloads.
Pursell Manufacturing Corporation maintains the same level of dedication and innovation with which it was founded, now manufacturing and providing a wide variety of essential Christmas tree lot supplies to distributors, mass marketers, and individual tree lots nationwide from the industry's largest facility (four acre, 50,000 sq. ft.) in central Colorado. Many thanks to all of our friends and customers over the last four decades. We hope you will continue to choose Pursell Manufacturing for the very best in quality and service for another 50 years to come!